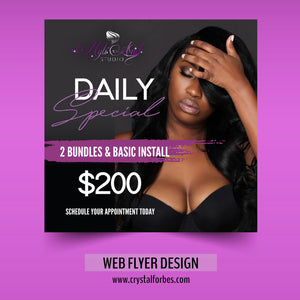 Crystal Forbes Design Studio
Web Flyer Design
Sale price Price $ 35.00 Regular price
-Formatted for instagram (square shaped) but can be used on facebook, websites, etc.
-Use to advertise a sale, price list, new website, or just in general to advertise your business!
-Includes initial design and 2 revisions (chances to change things) Revisions must be made within 24 hrs of receiving your proof. Once finalized, you cannot make revisions to your ad. You must purchase a new ad. (Example: You have received the proof I sent and you don't like the font and some of the wording needs changed. You let me know the changes (that would be revision #1) I send another proof and you want to change out a picture on the ad (that would be revision #2) After I send you the final proof, if there are still changes, it will require you to pay an additional design fee. Tip: To cut down on the number of revisions, please provide accurate info, ph numbers, price lists to be written on the ad, etc. Also, specify if there is a certain font you want to use or a certain "feel" you would like the ad to portray, such as edgy, colorful, eye-catching, soft, etc.
--AFTER PLACING YOUR ORDER YOU MUST FILL OUT AN ORDER FORM. CLICK THE "PAGES" MENU AT THE TOP OF MY WEBSITE AND CHOOSE "FORMS" FROM THE DROPDOWN MENU. CLICK THE LINK, FILL OUT THE FORM AND CLICK "SUBMIT". YOU MUST FILL OUT A FORM FOR EACH CUSTOM ITEM YOU ORDER
-You must submit wording within 3 days of ordering for all web flyers that you order
-No Printing Included
-Once design is approved, JPG file will be emailed