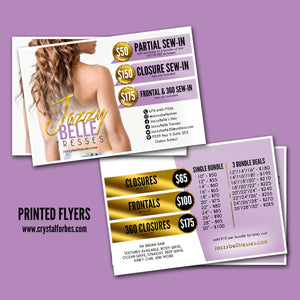 Crystal Forbes Design Studio
Printed Flyers
Sale price Price $ 75.00 Regular price
-Printed on 14 pt cardstock
-4" x 6"
-Orders of 250 & 500 quantity, material has Aqueous Coating (Matte)
-Orders of 1,000; 2500 & 5000 will be glossy UV Coated (Free for these quantities)
-Choose One Sided Printing or Two Sided Printing (2500 or 5k will automatically be two sided)
-Price does not include a new logo designed by me. You may include a logo that you already have or purchase one from me separately. Also, you have the option to use basic text in place of a logo.
-Basic setup design is included.
-Price does not include digital files. Digital Files are the master copies of the design that you can take elsewhere to get printed. If you need those, you must order those separately under the Digital Files listing on the site.
-AFTER PLACING YOUR ORDER YOU MUST FILL OUT AN ORDER FORM. CLICK THE "PAGES" MENU AT THE TOP OF MY WEBSITE AND CHOOSE "FORMS" FROM THE DROPDOWN MENU. CLICK THE LINK, FILL OUT THE FORM AND CLICK "SUBMIT". YOU MUST FILL OUT A FORM FOR EACH CUSTOM ITEM YOU ORDER