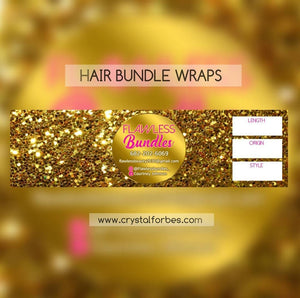 Crystal Forbes Design Studio
HAIR BUNDLE WRAPS - MATTE MATERIAL
Sale price Price $ 49.99 Regular price
You've come to the right place! Our Hair Bundle Wraps are our best-selling, top-rated product! 

Our wraps are different from others because they are:
1. Professionally printed on wide-format digital printers (NOT printed on a home printer)
2. They have FULL adhesive backs where you can peel and stick (NOT printed on paper with a sticky at the end, like our competitors)
3. This listing is for matte material. These are not glossy. This allows you to write on them.
4. We have over 15 years design/print experience and can brand you PROPERLY with high quality graphics.
PLEASE BE SURE TO READ THE FOLLOWING IN FULL BEFORE ORDERING, SO THAT YOU ARE AWARE OF EXACTLY THE ITEM YOU ARE ORDERING AND NO CONFUSION (AS THERE ARE NO REFUNDS ON CUSTOM ORDERS FOR ANY REASON)
SIZE: Approximately 4.5" W X 1.25" H -- standard size (If you need a different size, please contact us before ordering, as pricing is based on size)

USES: For use on hair bundles

MATERIAL: Matte (allows you to write in pen on them if you choose. Some clients add boxes to the design so they can fill in length/hair type.

FILE DESIGN: We setup the design that we print for you and then email you a proof before printing. We do NOT send you the master copy of our design or any file types. If you want our Digital File Design that you can take elsewhere to get printed after this, you must order that separately under "Digital Files". We will then send you the master file and create a jpg and pdf file for you, all sent via email and you can print it anywhere you like or print yourself.

LOGO DESIGN NOT INCLUDED.  Don't have a logo? You can order that separately from us, or if you just want regular text for your business name, we can do that at no additional charge. 

REVISIONS: There are 2 revisions included (meaning 2 rounds of changes where you can alter something about the design you don't like, BEFORE you approve them to go to print. If you have 3 or more rounds of changes, there will be an additional art fee)

TURNAROUND TIME: Approximately 7-14 business days AFTER you approve the proof to go to print, but usually a lot sooner. Always allow the 7 to 14 just in case. If there is a specific day you need them, you can contact us to see if we can accomodate, but due to shipping carriers we cannot be held responsible if you do not receive in time (like for an event). Turnaround time is approximate. If there is an emergency, timeframes may be affected (As we are human).

AFTER ORDERING ON THE SITE: Fill out the Design Info Form with all the details about how you want your wraps. You can upload your logo (if you have one), colors, wording etc all to that form! Then, all you do is wait for your proofs to come via email. The form is located under "FORMS" menu tab at the top of the page.

If you have any questions regarding ordering, please email info@crystalforbes.com or use our Live Chat feature during business hours. There are no refunds on custom orders